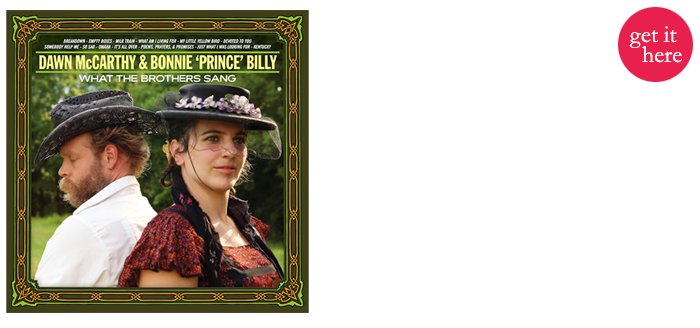 THE EVERLY BROTHERS were among the most influential musicians of the rock 'n' roll era. Their influence continues today, particularly in Americana, alt-country and indie folk music circles. That includes musicians Will Oldham, who performs as Bonnie "Prince" Billy, and Dawn McCarthy, who performs as Faun Fables. Both also have elements of punk, psychedelic and avant-garde in their music, and most of those show up in their album of Everly Brothers songs, What The Brothers Sang.
Both Oldham and McCarthy have voices and manners of singing – organic and unadorned – that are perfectly suited to the Everlys' music, with its roots in Appalachian harmony, gospel and Scots-Irish song. Their DIY aesthetic particularly shines through on some of the sadder songs that dwell on themes of loneliness and heartache such as the opener "Breakdown" and "It's All Over," as well as the three best-known covers on the album, "Devoted to You," "So Sad (To Watch Good Love Go Bad)" and "What Am I Living For." The first, of course, is one of the Everlys' most famous singles, and McCarthy and Bonnie hew pretty closely to Don and Phil's example on this lovely and simple rendition; they even seem to follow the brothers' trick of each singing partly the song's high and low harmony parts, rather than one singing just high or low for the whole song. "So Sad" has been covered by many country artists; this arrangement is quite slow and languid in the manner of a Gillian Welch song. "What Am I Living For" is not as well remembered today as the other two, but this sad waltz was the title track of a 1966 Everlys album and was also recorded by Ray Charles and Conway Twitty among others. Listen for the superb guitar solo in the middle of this one.
The Everlys didn't just sing close-harmony country-influenced rock 'n' roll, though, and in the late '60s and early '70s they dabbled in some psychedelic-style music, with mixed results. Many of these assays were either B-sides or were not even released until the '80s or later on career-spanning box sets. Here they're often arranged in the manner of psych-folk songs of the era, with flute and other unusual touches. These include "Empty Boxes," a Beau Brummels song that the Everlys recorded in the '60s but didn't put on an album until 1977; the flute, fingerpicked guitar and especially the fluid triplets in the refrain of "Oh, Diana / sweet Diana" are dead giveaways to the song's Summer Of Love provenance. Same with the psychedelic folk of "My Little Yellow Bird," with its bongo-style drums and metaphoric lyric; this one was the B-side to their cover single of James Taylor's "Carolina In My Mind." Another rarity is the psych-pop mini-suite "Just What I Was Looking For," a Carole King-Jerry Goffin obscurity. And, well, if you're going to do a John Denver cover, it might as well be from the same era, the pre-"Rocky Mountain High" psychedelic folk period of "Poems Prayers & Promises" with its reference to campfire dope-smoking. Definitely a peace-love-and-flowers period piece.
It's not all woozy folk or languid country: witness the loping almost-Cajun cover of "Milk Train," complete with squeezebox; and the Spencer Davis Group's "Somebody Help Me." I can imagine this one as a Monkees single, very catchy.
The album's credits include a long list of top-notch musicians, but thanks to the arrangements and production it never sounds dense or cluttered. The vocals are prominent, as they should be on an album dedicated to the brothers known for their singing and harmony. It's great to see the songs of the Everly Brothers being updated and passed on to yet another generation of music fans. Dawn McCarthy and Bonnie "Prince" Billy are perfect carriers of this flame, too, with their slightly off-kilter sensibilities and the lovely harmonies made by the combination of her clear alto and his warm-buttermilk baritone. There are some hints that the two may make some live appearances later this year, so keep your ears open on that score.
Gary Whitehouse at http://sleepinghedgehog.com
THE EVERLY BROTHERS were a staple in my house musically when I was growing up back in the early '60s; they were one of the biggest duos around and were known for their soaring harmonies and fusion of the current country sound with rock and roll. They toured and recorded from the late '50s through the early '80s and amassed a staggering collection of songs in their catalog. It must have been a huge undertaking to sift through them and choose the ones that Dawn McCarthy and Bonnie "Prince" Billy re-interpret here on their new release What The Brothers Sang. The important point to remember here is that, while Dawn and Billy are fans of the brothers, they didn't want to attempt to duplicate the songs in their original format; rather they preferred to take a fresh look at the songs and melodies to bring them into the present to a new group of fans.
Overall the album is chock full of gems chosen from their entire career such as the fabulous version Dawn and Billy put together of the song "Kentucky," a Karl Davis song (covered byPhil and Don in 1958) and a true gem in every the sense of the word. The harmonies performed by Dawn and Billy are the focal point of the meandering song. Another great song on the album is "Breakdown" written by Kris Kristofferson in 1971. The vocals here are ethereal in nature and the song flows beautifully giving it a completely different feel over the original.
"Empty Boxes" and "What Am I Living For" are two songs that, again, are drifting folk tunes that were meant to be done by these two. The combination of the lyrics and the talented musicians accompanying them on both songs is incredible. The upbeat version of "Milk Train" sounds completely fresh and new in this version, as does the old standard "Somebody Help Me." McCarthy does a great interpretation here and shows her vocal range, as does Billy in making this one rock from start to finish as it was originally intended to.
Much of the material on the album, such as "My Little Yellow Bird," "Devoted To You," "Its All Over," "Just What I Was Looking For," and "Omaha" work well in the overall scheme of the album, which is to bring some great forgotten songs from the early American Songbook back into the present with a laid back flow to them presented by a talented group of studio musicians and two of the best vocalists currently recording in this genre today.
8.1 / 10 — Scott Wilkinson, http://www.scenepointblank.com
FOLLOWING their bleakly festive Christmas Eve Can Kill You single, Will Oldham and Dawn McCarthy return for an album-length exploration of The Everly Brothers' songbook. Typically, for any project involving Oldham, the venture is a little more interesting than at first glance. Rather than a straight run-through of the hits, What The Brothers Sang demonstrates a deep knowledge and love for the Everlys' oeuvre, with relative obscurities given the billing they deserve.
In terms of Oldham's catalogue, it's most reminiscent of the full, countrified sound of Ease Down The Road, with hints of the more patchouli-scented numbers from Lie Down In The Light, as opposed to the sparse fruits of his previous collaboration with McCarthy, The Letting Go. Hearing the pair tackle the mournful likes of Empty Boxes and Somebody Help Me is an absolute treat. It's not all country-soul bliss, however: the pair have a blast on infectious, rollicking versions of Milk Train and Somebody Help Me.
The highlight is a remarkable version of Omaha, a song recorded in 1968 and unreleased until 1977, long past the Everlys' hit-making days. This new version is a stirring testament to the brothers' abilities, as well as a classic in its own right.
Five Stars
Domino | WIG 300
PROLIFIC purveyor of dark, off-kilter folk and blues, Will Oldham, aka Bonnie "Prince" Billy lends his extraordinary talents to a quietly radical re-working of the Everly Brothers' songbook, with spectacular results. In McCarthy he has found a duettist whose unique vocal colourings match his, and the result is tunes that contain more than an echo of the originals but give pieces like Empty Boxes and My Little Yellow Bird an eerie resonance. One or two of the slow, sombre tracks could have come from Bonnie's own pen but for the most part these are his sweetest, most commercial performances since his Greatest Palace Music album.
Martin Townsend
Verdict: 5/5
NO MATTER if the songs aren't automatically familiar to you – Dawn and Will's versions are gorgeous, distinctive and inspiring in their own right.  Performed alongside many of their frequent and regular collaborators on their own projects, they echo not only Don and Phi, but other great duet singers, particularly in the country idiom, such as Emmylou Harris and Gram Parsons.  It's a perfect way to revisit some classic tunes for modern times.     http://www.kcrw.com
DAWN McCARTHY'S VOICE, clear and joyous as a spring morning, intertwines with Will Oldham's woody tone creating something extraordinary; old school country in the very best  sense. Backed by an enviable  cast of master musicians, it drips with quality. No mere covers, these interpretations of the Everly Brothers make each song sound as fresh as the day it was written. It's no exaggeration to suggest their harmonies conjure the sweet sounds of Waylon Jennings and Jessi Colter. 'Milk Train' with its unstoppable freight and the heartbreaking 'It's All Over' are highlights, essential for any fan of Americana. As pure and rich as milk and honey. 8 out of 10.    http://www.clashmusic.com
WITHIN the first minute of this masterful and often sublime tribute to the music of the Everly Brothers, the sound sweeps seamlessly from Dawn McCarthy's intimate, heartworn intro to a lush, epic swell of harmonies, strings and pedal steel and you know you are in safe hands. What The Brothers Sang is perfectly pitched, whether capturing the uplift of those 1970s pop country productions (think Glen Campbell) on Milk Train or the folk duo hues of My Little Yellow Bird. With a talented supporting cast of players, McCarthy and the redoubtable BPB also go as rootsy as you like on the ballad What Am I Living For and make an infectious cry for help on the country rocking Somebody Help Me. A joy from start to finish. Jamie Lidell for Scotsman.com
ON THEIR TRIBUTE to The Everly Brothers, Bonnie "Prince" Billy and Faun Fables' Dawn McCarthy avoid the obvious hits in favour of more unfamiliar items from the brothers' repertoire – most strikingly, a chugging rockabilly version of the Spencer Davis Group's hit "Somebody Help Me", which Billy sings with a fervour unmatched anywhere in his vast catalogue.
It's the biggest surprise of a warm, affectionate set that ranges from country weepies like "Empty Boxes" and "What Am I Living For" to the gently psychedelic soft-rock of "Just What I Was Looking For", which recalls The Association. The most evident echoes of the Everlys' harmonies are in "Devoted to You".  The Independent
It could easily be argued that without The Everly Brothers, the history of rock & roll would be vastly different. When Don's baritone and Phil's tenor were combined in their unique, close harmony singing style, it provided an enormous influence on the vocals of Lennon and McCartney, Simon and Garfunkel, and countless others. Don's open-G guitar tuning inspired no less a musical dignitary than Keith Richards, among others.
Their talents translated to the Billboard charts as well. "Wake Up Little Susie," released in 1957, ascended to #1 on the Country, Pop, R&B, and Canadian charts, as well as #2 on the UK charts. Felice and Boudleaux Bryant, the Cadence Records songwriting team, wrote the track while the brothers were on the Nashville-based label. In the late '50s, under the stewardship of music publishing house Acuff-Rose, the brothers would enjoy chart success with more Bryant-penned hits on Cadence like "Bird Dog," "All I Have To Do Is Dream," and "Devoted To You."
However, feeling stifled by Rose's demands, the brothers left for what they thought were greener pastures at Warner Bros. in 1960. Although they were no longer privy to Bryant compositions, Don's composition "Cathy's Clown," released in 1960, reached #1. The brothers would enjoy success in the UK through the early part of the decade, but their appearances on US charts began to diminish. One-digit chart hits turned to three-digit ones and soon ceased altogether. By the time the Beatles were breaking chart records in 1964, the Everlys' biggest successes were behind them, with the exception of their #2 UK hit "The Price of Love" in 1965.
The singles-based musical economy of the time meant that radio and incessant touring were part of the daily grind; this had begun to take its toll not long after the brothers left Cadence for Warner Bros. Drug addictions, suicide attempts, nervous breakdowns, broken marriages, and estranged children eventually dampened much of the youthful exuberance of the Everlys, who had been performing music nearly since birth, under the tutelage of their father, Ike. (The senior Everly had his own radio show in Iowa—on which his sons appeared—and his fingerpicking guitar style fostered a big influence of its own.)
Tensions escalated to a boiling point, culminating in a notorious alcohol-fueled spat during a 1973 Knott's Berry Farm concert in which an enraged Phil smashed his guitar and stormed offstage, leaving a shattered Don to sober up and finish the set solo. It would be ten years before the brothers would even speak to each other, much less record or play together. They eventually made up, playing a reunion show at the Royal Albert Hall in 1983 and releasing two critically acclaimed albums later that decade, even continuing to tour together throughout the next two decades. Though their relationship remained cordial and at times, strained, the incandescence of their musical partnership has never dimmed.
Now to the present day, and a different pair of singers and musicians: Dawn McCarthy and Bonnie "Prince" Billy (a.k.a. Will Oldham). The duo, who have performed together and separately, enlisted the help of an impressive array of their own former collaborators as well as much-respected Nashville session musicians to create What The Brothers Sang, a tribute album to the Everly Brothers.
Unlike most tribute albums, McCarthy and Billy didn't rely on the greatest hits, but have instead selected a variety of tunes which showcase the many facets of what made the Everly Brothers such a significant and indelible chapter to the history of American music. Listening to What The Brothers Sangis not only a trip through the Everly Brothers' past, but also a look at the history of great American songwriters.
The album opens with "Breakdown," a Kris Kristofferson song that appeared on his second solo album, 1971′s The Silver Tongued Devil and I (which also happens to be the album Robert DeNiro buys for Cybill Shepherd in Scorsese's Taxi Driver). It's a beautiful tune, notable for Kristofferson's blunt, observational lyrics. McCarthy and Billy's cover is also beautiful and pretty faithful to the Everlys' wonderful interpretation, which was released on 1971′s Stories We Tell album.
"Empty Boxes," written by Ron Elliott of the Beau Brummels, was on The New Album, a 1977 UK-only disc containing previously unreleased tracks that the brothers had recorded for Warner Brothers in the '60s. It's a spare, lovely song and this new version adds some mandolin and flute to give it an even more pensive quality.
No doubt the inclusion of "Milk Train" will be a delight to fans of the Everly version. Written by Tony Romeo—responsible for hits like The Cowsills' "Indian Lake" and "I Think I Love You" by The Partridge Family—its somewhat sad lyrics are belied by the sprightly music. It didn't chart high in 1968 and was eventually included on the 1994 Heartaches and Harmonies compilation album. On What The Brothers Sang, the added accordion imparts a zydeco quality that is most enjoyable.
The 1958 Art Harris/Fred Jay "What Am I Living For" has been covered by many, including Conway Twitty, The Animals, Ray Charles, The Band, and Van Morrison. The Everlys' version is quite bluesy, with a harmonica and piano, while McCarthy and Billy's take includes fiddle, Hammond organ, and a wah wah guitar solo that combine to sound authentically country.
The haunting, magical "My Little Yellow Bird" was written by Don and appeared as the B-side to their "Carolina in My Mind" single. It would be difficult to improve upon what is already an outstanding song, but the What The Brothers Sang version does an impressive job, and the added flute adds a noticeable wistfulness.
One of the few big hits to appear on What The Brothers Sang is "Devoted To You," a Bryant composition from 1958, a B-side (to the also-huge hit "Bird Dog") that still managed to crack the Top Ten in the US and Canada (not to mention #25 in Australia). The Everly original is pure '50s single sweetness, epitomizing what made music fans fall in love with the brothers in the first place. Yet McCarthy and Billy have approached the song from a different angle, with that ever-present flute, some pedal steel, and violin, even slowing things down and modernizing the song considerably in a loving homage to the charming naiveté of the original.
"Somebody Help Me," the Jackie Edwards-penned 1966 #1 hit for the Spencer Davis Group, was included on the Everlys' 1966 album Two Yanks In England, and unfortunately failed to chart, despite the inclusion of some contemporaneous fuzz guitar and rousing vocals. Again, McCarthy and Billy's interpretation is delightful, sounding as akin to The Continental Drifters as to the Everly Brothers.
Another stunning Don Everly-written tune, "So Sad (To Watch Good Love Go Bad)" from It's Everly Time, was a 1960 single that charted at #7 in the US. This cover slows things down, punctuating the song with pedal steel and allowing its country origins to shine.
Don Everly also wrote the should've-been-a-hit "Omaha," which unfortunately only appeared on '77′sThe New Album and Don's self-titled 1970 album. McCarthy and Billy wisely refrain from changing much, and the result is breathtaking.
Perhaps the most exquisite of all the songs that appear on What The Brothers Sang is "It's All Over." The original featured a rare lead vocal from Phil as well as harpsichord. As close to perfect as one could hope to attain in song form, it was included on In Our Image from 1966. Remarkably, McCarthy and Billy have included orchestral instruments (cello, violin) and pedal steel, which render their version almost as striking as the original, only adding in one more repeat of the "it's all over" line at the end to maximize what is already a devastating rumination on heartbreak.
John Denver started releasing music in 1966, but saw his first hit with "Take Me Home, Country Roads" in 1971, the same year that produced "Poems, Prayers, and Promises," which showed up on the Everlys' much-loved Heartaches and Harmonies compilation. While their version is just vocals and guitar, What The Brothers Sang includes some mandolin and subtle accordion, but still retains the feeling of a fond look at the past and hopes for the future that the Everlys conveyed so well.
The Everlys performed and released dozens of songs in their career, and performed the compositions of many hit making songwriters, but their version of "You're Just What I Was Looking For Today" by Gerry Goffin and Carole King is one of my favorites represented on this album. Their original includes prominent bass lines, a Hammond organ, and amazing delayed harmonies that are almost Beatle-esque in their beauty. Why this song wasn't a hit is mind-boggling, since it could have easily stood its own against what The Cowsills were doing around the same time. Here, McCarthy and Billy take down the tempo but preserve the insanely lush harmonies so that it sounds more like a ballad.
What The Brothers Sang ends with a nod to the Kentucky origins of Don and Phil Everly with "Kentucky," the most traditionally Country song on the album, written by Karl Davis, a prominent figure in Country during the '30s and '40s. The brothers' restrained 1958 version had little instrumentation and relied mostly on their harmonies, but on What The Brothers Sang, the track includes some accordion and subtle guitar and is the better for it.
For those who haven't yet discovered the joys of the Everly Brothers, What The Brothers Sang is a revelation. Dawn McCarthy, Bonnie "Prince" Billy, and the accomplished musicians who appear on the album have created a magnificent and respectful, yet fresh and invigorating, peek inside the Everly Brothers' massive catalogue of music. Although at times McCarthy is remarkably adept at channeling Phil Everly's tenor, neither she nor Billy sound particularly similar to either of the brothers, but this is a gift and not a liability. For those who would like to listen to something that nods towards early rock & roll, folk, country, and roots rock, What The Brothers Sang receives my highest and most sincere recommendation.
Less Lee Moore, http://popshifter.com