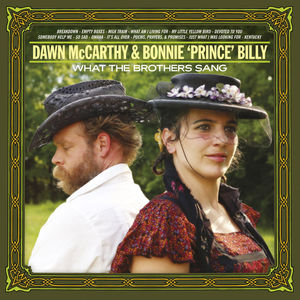 What the Brothers Sang is no mere gesture of nostalgia; these new versions rethink The Everly Brothers for the audience of listeners today, people who naturally might have no knowledge or experience with those songs. Why should they? It's not everyone who trawls through the dust of the past for their pleasures. Most of us live today – and so, for today, these songs are made.
What the Brothers Sang is made with deep respect for, is inspired by The Everly Brothers, but it pays tribute by being a record that only Dawn and Bonnie could make, and only in the room with the players that had come to join them. Their duets are a sensuous display of give and take that includes everything that's resonating in the room, every surface that's being pressed or rubbed or hit is a part of the action. Their harmonies are in the tradition, but they are their own, not cutting-on-the-dotted-line of Everlys magic. These songs make Dawn and Bonnie more themselves. They have their own natural way, and it is infused in every deep moment of every song here.
With a great spirit of collaboration, support and exaltation, What the Brothers Sang was recorded and mixed by David Ferguson. The songs were played by Emmett Kelley, Dave Roe and Kenny Malone, with featured players Billy Contreras, John Mock, Dan Dugmore, Matt Sweeney, Pete Townsend, John Catchings, Bobby Wood, Joey Miskalin, Nils Frykdahl, Ian McAllister, Joey Baron, Dr. Chris Vivio, and Noah Tag. The record is due out on February 19, 2013 via Drag City.
Courtesy of www.jambase.com