"There's a time for everything, all in the proper order at the proper time."
-Mrs. Brown, NATIONAL VELVET
And now, FINALLY is the time to announce a singing project that incubated summer 2011 while listening to an EVERLY BROTHERS greatest hits cassette in continuous rotation at the demand of my toddlers until the car stereo ate it. It was made in Nashville last spring 2012 during a time of lush green and kept a secret until now; released this month as a holiday and winter season gift:
CHRISTMAS EVE CAN KILL YOU  a single out on Drag City Records … a duet of Dawn & Bonnie 'Prince' Billy, made in Nashville spring 2012. Part of a salute to the Everly Brothers. THIS ALL in anticipation of the full length record to come in 2013 …  WHAT   THE   BROTHERS   SANG,
Click here to buy the single, along with the B side, Walking The Dog. Also available as a 7″ vinyl single.
Watch the VIDEO!  by Lara Miranda. Visit Lara's site …
My friend and filmmaker LARA MIRANDA, of Faun Fables videos I'D LIKE TO BE and A TABLE FORGOTTEN, was there during it all – literally, invited to document the whole process and the world of Nashville. She also traveled around eastern Kentucky, in counties where she spent important years as a child, and where the Everly Brothers are from. All this, plus cameos from my family, appear in this video.
CHECK IT OUT !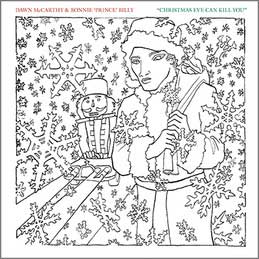 This is in anticipation of the full length record to come in 2013: WHAT THE BROTHERS SANG, a salute to the wonderful vocal duet work, circa 1960-79, of brothers Don and Phil Everly, made with my singing comrade Will Oldham a.k.a. BONNIE 'PRINCE' BILLY … the Everly Brothers being the first material we sang together and bonded over, back in 2003.
Another's writing can bring out singing parts in you that your original writing never could. It felt like it was time to enjoy and offer up some of the simple joys of singing in me that I haven't shared a lot in all my other vocal adventuring. It was neat to've not written the material, to be just singers traversing this older material written especially for two. And to make the music right there, live in the studio with the other musicians, as is the tradition with Nashville. I've learned a lot about an organic flow to singing with Will. There was a lot to negotiate with these vocal parts; mostly with our singing voices at the moment they emitted sound.
I loved the experience.
And there's some kind of fountain of youth those Nashville musicians have found – bassist Dave Roe is in his 60's and drummer Kenny Malone is in his 70's. But like true folk tradition all ages are included; there were some stunning youngsters, like fiddler Billy Contreras. I was thrilled to make a record with Emmett Kelly again and his gorgeous guitar playing. Producer/engineer David 'Ferg' Fergusson kept us in line, but laughing to tears. In fact, the amount of glee and kick butt playing was enough to keep me young for many years to come.
It's great labor to work at- making a record of songs. .
Wishing everyone HAPPY HOLIDAYS..  MAY THE MIDWINTER SING ~ effortlessly, enjoyably.
DAWN