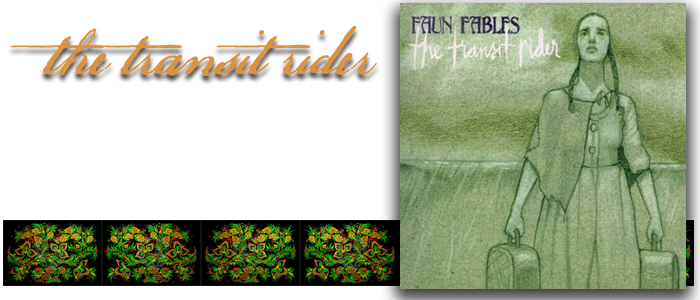 THE TRANSIT RIDER
(2006, Drag City)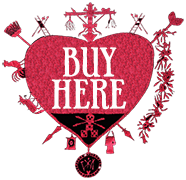 A rider is born onto the transit sytem, a network of roads, rails, corridors and trails that meets itself on the far side of the world. In a setting of ongoing motion, among strangers, fluorescent lights, amidst the limping dogs and singing landscape, she will try to find a place only dreamt of: the picnic stop.
This selection of songs draws from a theme that began in 1994, when Dawn McCarthy was introduced to the complete world of the NYC subway in it's submerged & transient glory and began writing about it.
After working up short vignettes of the material with Nils Frykdahl over the years, The Transit Rider was made into a full length theater show in 2002 in San Francisco, aided by the inspiration of director Allen Willner with a cast of thirteen.
The album received further songwriting & development, plus collaborations from Dawn's mother Michelina Tyrie (Earth's Kiss) and a poem by her dad Will McCarthy (I No Longer Wish To), written during his last days as a stock broker. Also incorporated into the setting were songs from Polish 'art song' composer Zygmunt Konieczny (Taki Pejzaz/Such a Landscape), Soeur Sourire (Je Voudrais/I'd Like To Be) and an Anglo Saxon traditional (House Carpenter). It's debut release was celebrated with a remounting of the theater show newly adapted, aided by Bay Area artists Matt Lebofsky and Jenya Chernoff, which toured North America Spring 2006.
"Faun Fables latest disc, THE TRANSIT RIDER, is the musical equivalent of staring into a cat's eyes; intriguing, if somewhat unnerving. McCarthy's untamed vocals are like a cross between indie songstress Cat Power and Heart's Ann Wilson. Alone, her flight-of-fancy melodies are interesting. When accompanied by frequent collaborator Nils Frykdahl's canny baritone, they're positively riveting"
– Seven Days
"Dawn's voice is a wise old woman smoking the world's finest cigar…rolled in molasses, encased in velvet. It's deep yet airy, rich yet not overindulgent. To put it simply, it's evocative."
– MULE magazine
Track Listing:
01. Birth
02. Transit Theme
03. House Carpenter
04. In Speed
05. Taki Pejazz 

06. Roadkill 

07. Earth's Kiss
08. Fire and Castration
09. Questioning
10. I No Longer Wish
11. Corwith Brothers
12. Dream on a Train 

13. I'd Like To Be