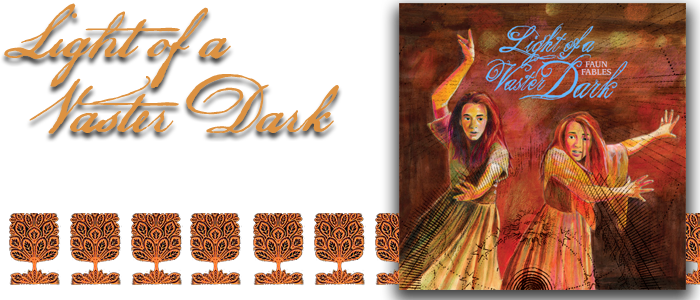 (2010, Drag City)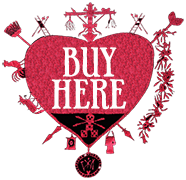 The music of Faun Fables is linked, at least tangentially, to the British Isles folk explorations of the Watersons, Steeleye Span, Fairport Convention, and Pentangle, along with nearly ancient strains of music from France and Hungary, all woven into a healthy dose of American primitivism, 21st century psychedelia, and modern production. Yet they sound like no one else. Light of a Vaster Dark is beguiling and intoxicating; it challenges the listener by demanding her attention in order to grasp the full spectrum of what is taking place musically and lyrically.
Led by vocalist/songwriter/guitarist Dawn McCarthy and guitarist Nils Frykdahl, Faun Fables, this time out the band is aided by electric percussionist & violinist Meredith Yayanos, multi-instrumentalist Kirana Peyton, bass clarinetist & flutist Cornelius Boots, and harmonica player Mark Stikman.
Light of a Vaster Dark, like 2006's The Transit Rider, is a conceptual work. It is a suite with both an intro and outro, 11 songs in four sets, separated by three interludes. It address weather (actual and internal) and its place in the seasons of life in literal and metaphorical terms. Certain songs, "Housekeeper," "Hollow in the Home," and "Hibernation Tales," are logical but otherworldly extensions of themes explored on their 2008 EP, A Table Forgotten, which looked at home and hearth as places of psychic adventure as well as rootedness and belonging. Here the metaphors are extended to shelter and and the longing for it. Moving from darkness toward light and back again, McCarthy's songs here engage both the fantastic and the mundane in their concerns, and the music plays with accepted notions of everything from Elizabethan folk and Eastern European modal traditions (the title track) to country rock ("Parade").
"On the Open Plains" uses a cacophony of tribal drums to carry otherwise a cappella voices across distances of time and space. This track gives way to the near pastoral dreamscape "Violet," with its lovely harmonica swells by Stikman underscoring McCarthy's lyrics. The chanted ritual song "Sweeping Spell" is populated with various percussion instruments; it illuminates the cyclical nature of this recording's themes. It describes a seemingly ordinary task that functions as an anchor in times of uncertainty and danger. "Hibernation Tales," illustrated by glockenspiel, gypsy, and classical violins, guitars, and organic percussion, brings this magical, moody, multivalently textured story to a glorious close with acceptance of the natural world's cycles. Light of a Vaster Dark is ultimately the most integrated, seamlessly rendered aural illustration of McCarthy's unique vision that Faun Fables has released to date.   http://www.allmusic.com
Track Listing
intro: darkness
Light of a Vaster Dark
Housekeeper
On the Open Plains
Violet
Interlude
Hollow in the Home
Interlude 2
Parade
Hear the Grinder Creak
Interlude 3 :
Sweeping Spell
O Mary
Bells for Ura
Hibernation Tales
outro: light